As documented
here
, I am on a mission to be rid of all brass in my house.
Enter one brassy fireplace:
So what's a girl to do? I've been seeing on the blog-sphere
here
and
here
how wonderfully the Rustoleum high heat product works. I selected the paint-on application because I was worried about overspray.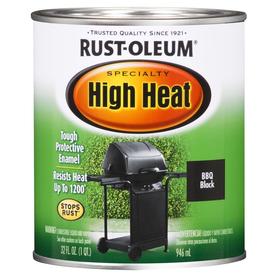 When they say it's thin, think thiiiin. As in if I applied the coats lightly enough to prevent dripping, I could see the brass color. And it was shiny. Maybe I didn't stir the paint well enough. Maybe I got a bad can. I don't know.
Woe! The original brass could not be restored: I had sanded it down as part of the prep. I was so upset I couldn't take any photos. Think shiny, lumpy, incomplete coverage.
Enter:
and voila!
here's a close-up:
Note #1, the spray is a flatter, grey-er black than the commercial finish. I think with better prep (eg primer) the brush on application is better to touch up a fireplace that already has some black.
Note #2, the spray on comes in two versions: high gloss and the flat, above. Make sure you're getting what you want!
I am linking up to
Domestically Speaking's Power of Paint Part
y