We had these
asian lettuce cup
s for CNY dinner as a "healthy" choice. Well, that and spreading treats out over the entire two-week period instead of a gigantic calorie-fest.
This recipe gets multiple thumbs up by being easy/quick, tasty and relatively healthy. I think the fact that it's very crunchy and you get to eat with your hands also makes it satisfying - your body gets
time
to process the fact that you've been
chewing
.
The original recipe calls for bibb lettuce, but here in the midwest, we get leaf, romaine and iceberg. I went asian-y and got the iceberg (which has no nutritional value). The only tweak I made was to sub ground pork (ground chicken or turkey is $6/lb!!). Besides a cost savings, I think pork adds a bit of flavor. Check out the original recipe at
Steamy Kitchen
.
I'm looking forward for the next time these show up on our menu plan, and I'm really excited for the Farmer's Market to start up again to try it with real lettuce. Yum!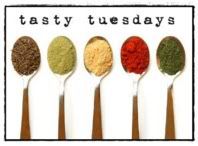 Linking up to Tasty Tuesdays at 33 Shades of Green!